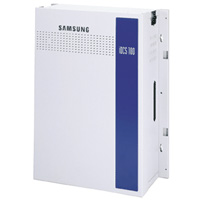 The OfficeServ 100 offers power and control without sacrificing flexibility. The OfficeServ 100 is as easy to use as it is efficient. Our single cabinet design is configured as a basic Key System Unit, and you can add either one of two expansion cabinets as your business needs require.
SYSTEM FEATURES

Account Code Entry
· Forced-Verified
· Forced-Not Verified
· Voluntary
Account Code Key
Account Code Key
One Touch
Administrator Program Key
All Call Voice Page
Attention Tone
Audio Message with Alarm
Reminder (Timer)
Authorization Codes
· Forced
· Voluntary
Auto Answering on CO
Auto Attendant
Automatic Call Distribution
Automatic Hold
Background Music
Branch Group
Call Activity Display
Call Center
· Agent Busy
/Manual Wrap-Up Key
· Agent Pin (ID) Numbers
· Agent Login & Logout
· Automatic Logout
· Automatic Wrap-Up Timer
· Priority Call Queuing
· Embedded Reporting Package
— Agent Statistics
— Call Statistics
— Group Supervisors
— Printed Reports
· OfficeServ DataView*
— UCD Statistics
— UCD Monitoring
— Wall-Style Display Window
Call Costing
Caller Identification (CID)
· Automatic Number
Identification (ANI)
· Caller ID
· Calling Line Identification
Caller ID Features
· Name/Number Display
· Next Call
· Save Caller ID Number
· Store Caller ID Number
· Inquire Park / Hold
· Caller ID Review List
· Investigate
· Abandon Call List
· Caller ID on SMDR
· Number to Name
Translation
· Caller ID to PSTN


· Caller ID to Analog Port*


Call Forwarding
· All Calls
· Busy
· No Answer
· Busy/No Answer
· Forward DND
· Follow Me
· External
· To Voice Mail
· Preset Destination
· Preset Forward Busy
Call Hold
· Exclusive
· System
· Remote
Call Park and Page
Call Pickup
· Directed
· Groups
· Established
Call Recording
Call Waiting/Camp-On


Caller Emergency Service
ID (CESID)
Centrex/PBX Use
Chain Dialing
Chain Forward
Class of Service
Common Bell Control
Computer Telephony
Integration (CTI)*


· OfficeServ Link*


· OfficeServ EasySet*
· OfficeServ DataView*
· OfficeServ Call*
· OfficeServ Operator*
· OfficeServ Softphone*


· OfficeServ Open TSP**


Conference
· Add On
· Unsupervised
· Split


Conference Group

*


Customer Set Relocation
Data Security
Database Printout
Daylight Savings Time-Auto
Dialed Number
Identification Service
(DNIS)
Direct In Lines
Direct Inward Dialing (DID)
· Day/Night Routing
· Busy or Camp-On Option
· MOH Source
· DID Call Limits
Direct Inward System
Access (DISA)
Direct Trunk Selection
Directory Names
DISA Security
Distinctive Ringing
Distinctive Ringing
Enhanced*
Door Lock Release
(Programmable)
Door Phones
E & M Tie Lines
Executive Barge-In
(Override)
· Station or Trunk
· With/Without Warning Tone
External Music Interfaces
External Page Interfaces
Flash Key Operation
Flexible Numbering
Ground Start Trunks
Group Busy Setting
Hot Line
In Group/Out of Group
Incoming Call Distribution
Incoming/Outgoing Service
Individual Line Control


IP Keysets*


ISDN Call Progress Monitor
ISDN Service
· Primary Rate Interface
· Basic Rate Interface
LAN Interface*
Least Cost Routing
Live System Programming
· From Any Digital Keyset
· With a Personal Computer


· With Remote ITP Keyset*


Meet Me Page and Answer
Memory Protection
Message Waiting
Indications
Message Waiting Key
Microphone On / Off
per Station


Mobility Solutions
Multiple Language Support
Music On Hold Flexible
Music On Hold Sources
Networking*
· QSig over IP
· QSig over PRI
Off Premises Extensions (OPX)
OfficeServ Wireless*
Operator Group
Overflow
· Operator
· Station Group
Override Codes
Paging
· Internal Zones
· External Zones
· All External
· Page All
Park Orbits
Prime Line Selection
Priority Call Queuing*
Private Lines
Programmable Line Privacy
Programmable Timers
Recalls
Recall to Operator
Redial Review
Remote Programming-PC
Ring Modes
· Time Based Routing Plans
· Automatic/Manual
· Holiday Schedule
· Temporary Override
Ring Over Page
Secretary Pooling
Single Line Connections
Speed Dial Numbers
· Station List
· System List
Speed Dial by Directory
Station Hunt Groups
· Distributed
· Sequential
· Unconditional
Station Message
Detail Recording (SMDR)
Station Pair
System Alarms
System Maintenance Alarms
System Directory
Tenant Services
Toll Restriction
· By Day or Night
· By Line or Station
· Eight Dialing Classes
· Special Code Table
Toll Restriction Override
Tone or Pulse Dialing
Traffic Reporting
Transfer
· Screened / Unscreened
· Voice Mail Transfer Key
· With Camp-On
Trunk Groups
Uniform Call Distribution
Universal Answer
Virtual Extensions
Voice Mail
· Inband Signalling
· Integrated (In-Skin)


Voice over IP (VoIP)*


Walking Class of Service
Wireless Handsets

*Software version 2.4x or higher.
**By special request.


DISPLAY FEATURES

Account Code Display
Call Duration Timer
Call for Group Identification
Call Processing Information
Caller ID Information
Calling Party Name
Calling Party Number
Conference Information
Date and Time Display
Dial by Name
Dialed Number
Enhanced Station Programming
Identification of Recalls
Identification of Transfers
Message Waiting Caller
Number


Outside Line Identification
Override Identification
Programmable Message
Display
Soft Keys
Stopwatch Timer
Text Messaging
UCD Supervisor Displays
STATION FEATURES

Add On Modules
Appointment Reminder
Auto Answer on CO
Automatic Hold
Automatic Privacy
Background Music
Busy Station Callback
Busy Lamp Field (BLF)


Call Coverage Key*


Call Forwarding
Call Forwarding Override
Call Logs*
Call Pickup
Direct Station Selection (DSS)
Do Not Disturb (Override)
Do Not Disturb (Programmable)
Door Lock Release


Exclusive Hold
Group Listening
Headset Operation
Hearing Aid Compatible
Line Queuing with Callback
Line Skipping
Loud Ringing Interface
Manual Signalling
Message Waiting Light
Indication
Mute Microphone / Handset
Off-Hook Ringing
Off-Hook Voice Announce
One Time Do Not Disturb
One Touch Dialing Keys
On-Hook Dialing
Privacy Release


Programmable Keys
Programmed Station
Messages
Protection from Barge-In
Pulse to Tone Switchover
Redial
Remote Hold
Ring Modes
Ringing Preference
Speakerphone
Station Lock
Terminal Status Indicator
Tri-Colored Lights
Volume Settings
Wall-Mountable Keysets
Without SVM
With SVM
Keysets and AOMs

56

48

Single Line Telephones

42

34

ITP Keysets

64

64

CO/Centrex/PBX Lines (Loop Start)

36

36

E&M Trunks

12

12

SVMi-8 Voice Mail Ports

0

8

SVMi-4 Voice Mail Ports

0

4

PRI/T1(Digital Trunk)

1 (24)

1 (24)

VoIP Channels (Trunking)

8

8


NOTE: These numbers indicate maximum of each device type. In no case can the system exceed a combined total of 88 devices listed above.